Lindsey Niggins
Hello! My name is Lindsey Niggins and I am a kindergarten teacher at Emerson Elementary School. Welcome to Emerson School! I am really looking forward to working with you and your child this school year. On this website you will find information pertaining to our classroom as well as the school. In addition to this website, a classroom newsletter will be sent out weekly. Please check this website frequently for up to date information. I look forward to a wonderful school year!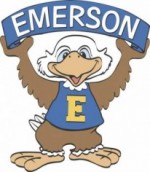 October 21st: Picture Retake Day (please let me know if your child is getting their picture retaken!)
October 23rd: Late Arrival Day
October 25th: Fall Fest at Emerson from 6:00-8:00pm
October 31st: Student Council Sponsored "Special Day" - Crazy Hat Day!
November 1st: Student Council Sponsored "Special Day" - Pajama Day!
November 8th: End of Trimester 1
November 15th: Miss Niggins absent all day
November 20th: Late Arrival Day
November 22nd: Report Cards sent home—more information to come about accessing report cards!
Click below to be redirected to the 2019-2020 Elmhurst District calendar
Email: lniggins@elmhurst205.org
School Phone: (630) 834-5562
Please notify the office if your child will be absent or late.