Shawna Garcia
Hi! I am Mrs. Garcia and I will be teaching PM Kindergarten. I will be working as an ELL teacher in the morning. Welcome to the 2019-2020 school year! On this website you will find information that pertains to our classroom and to Emerson School. A classroom newsletter will also be uploaded to this website, as well as sent via email weekly. Please check back weekly for any new updates. I am looking forward to a great school year!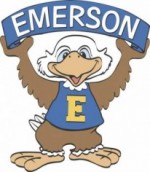 CLASSROOM BEHAVIOR PLAN
Here is our classroom behavior chart. It is a reward system that focuses on positives reinforcements. The students start out on green everyday and can clip up on the chart for good behavior. If they clip up to the red or the star they will earn a reward coupon. They can redeem this at any time. If the student clips down to blue they will have the opportunity to clip back up. But if they clip down again to purple it will be the teachers discretion to decide if they miss out on something. If they clip down to pink I will contact you and let know what happened during the school day.
SPECIALS SCHEDULE
Specials are activities that students attend outside of the classroom. Kindergarten students will have the opportunity to attend gym, music, art, and library one time a week. Please make sure your child has an art smock (an old t-shirt works perfectly) and a pair of gym shoes to be left at school to be used on days when we have art and gym.
Monday- Library
Tuesday- P.E.
Wednesday - No Specials
Thursday- No Specials
Friday- Music and Art
Additional Practice
- Monthly Homework Calendar: This calendar will come home on the first of every month. Students will complete a short activity daily according to the calendar. There will be reading, math, and writing activities that you can do at home with your child.
-Reading: Students should be practicing reading every day! Students can work on tracking print from left to write and attempting to read short words. Being read to is also great practice! Try to read at least 10-20 minutes a day!
--Raz Kids: Raz Kids is an online database that allows students to read, listen to, and answer questions about stories. This is a fantastic website and great practice for literacy! You can access Raz Kids by clicking here.
--Math- Math concepts are simple to practice at home! Practice counting by ones, tens, and fives. Practice looking for shapes at the store, at home, and at the park. Work on one-to-one correspondence by pointing to each item counted. Practice decomposing (taking apart) numbers by identifying different groups numbers can be broken up into. For example, the number 5 can be made with a group of 2 and a group of 3.
Websites
PPT, Word, Excel Viewers [Go]
Acrobat Reader [Go]